There is nothing more exciting and jaw-dropping than seeing two titans take on each other for the conquest of supremacy and dominance. From their legendary powers to their sizes to their tense rivalry, everything contributes towards the success of these science fiction movies. Movies of this kind provide its viewers a chance to escape reality and experience these situations just by sitting in their comfortable and adjustable chairs.
Movies of this kind don't need to promote themselves, but it is the general talks, the fan theories and speculations, and the long history and past events that count in a lot. Also, fans are significantly involved in the promotion of these movies, sometimes even more than the management and promotion teams of these movies.
Two such movie franchises get a whole lot of public attention and are subject to a ton of fan theories. These are Godzilla and King Kong.
Godzilla and Kong are both pretty old movie franchises that have entertained people for decades. Now both the franchises are collaborating for their future joint project Godzilla Vs. Kong, which will be the sequel of Godzilla: King of the monster(2019) from the Godzilla franchise and Kong: Skull Island(2017) from the king kong franchise.
This movie will be the 36th movie of the Godzilla saga and 12th film of the Kong saga, which tells that these two behemoths have entertained the viewers for a very long time.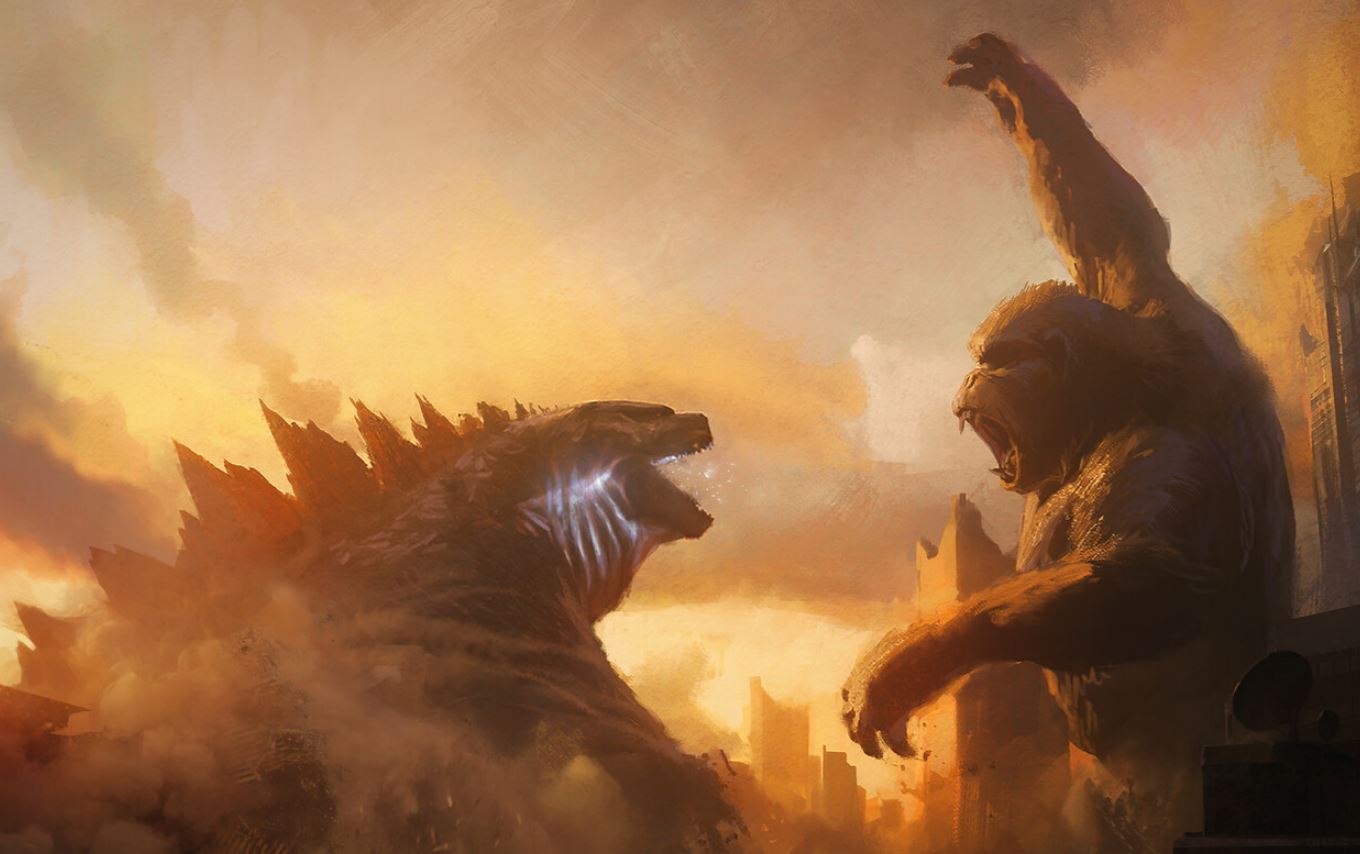 This has been a reason for a lot of discussions and speculations. Also, a new type of rivalry is seen between the fan groups of both the super Titans who have always aligned with the positive and have fought against the evil coming their way. Fans are very excited to think about what they will be able to witness in the upcoming movie.
These two goliath creatures will face each other off after a very long period, and it is got to be a center of attention for many movie watchers and fans around the globe.
This will be a high-cost project and will use high-quality graphics to provide the viewers with the best cinematic experience possible; after all, it is two of the greatest of all time brawling against one another to prove their metal to the whole planet.
Production Team
Godzilla Vs. Kong will be directed by 'Adam Wingard', who is very famous for his works in the horror genre like "You're Next" and "Deathnote." The movie will be produced jointly by Mary Parent, Alex Garcia, Eric McLeod, and Brian Rogers. The production of this movie will be done by Legendary Pictures, just like the prequels. It will be distributed by Warner Bros (in the rest of the world) and by Toho (in Japan). The story of the movie is written by Terry Rossio, Michael Dougherty, and Zach Shields. Also, the movie will be released in 2d, 3d, and IMAX formats and will rightly fit the preferences of various types of viewers.
We see that Godzilla Vs. Kong movie is studded with such great names in the industry, and also it is connected with such big production houses, let us see when the movie is scheduled to be released.
Release Date: When Will Godzilla Vs. Does Kong Come in Theatres?
The release date of this big-budget movie has been altered and postponed a couple of times, which has increased the fans' excitement and pushed their patience for the movie to the brim. The movie's release date was scheduled for March 2020, but due to some issues, it's release date was further scheduled to 20th May 2020. But due to the current pandemic situation which has affected business and lives worldwide, the movie was again postponed twice to November 2020, and then, at last, it was announced that the movie would release on 21st May 2021.
It is a very long duration to cover, and for fans who already are very impatient, it is not very good news. But at least now we have a set a date for the epic Godzilla Vs. Kong.
I hope this time, the release date remains unchanged, and we can witness the two of the world's favorite monsters take upon each other and end the debate of "who will win?" once and for all.
The movie will be distributed by Warner Bros (in the rest of the world) and by Toho(in Japan).
Godzilla Vs. Kong: is the Trailer Out Yet?
The trailer for this much-awaited movie is not out yet. If it were out, the fans would have become more impatient. Some videos on YouTube are titled "Godzilla Vs. Kong trailer," but these are fake trailers generally made by some fans. So anything you see in those videos is not likely to happen (obviously except the brawl between Godzilla and King Kong).
To know what will happen in the movie, we will have to wait for the official trailer of Godzilla Vs. Kong and refrain from watching these fake trailers that may result in the creation of false expectations and which may lead to disappointment in watching the actual movie or trailer.
Usually, the trailers for these movies are out in public about six months before the movie's release date. So we can expect the trailer by the end of November or mid-December. There are also rumors that the trailer will be released on the 10th anniversary of inception, which is on 17th July 2020, when the movie is scheduled to be re-released after ten years(this is also jolly news). But the credibility of these rumors can only be checked in time, i.e., we will have to wait till 17th July.
In any of the two cases, we will be able to see the first look of the two ultra sized creatures battling with each other by the end of this year, which is a bit comforting.
Cast: Who Will Be in Godzilla Vs. Kong?
The movie will star Millie Bobby Brown as Madison Russel. She is very famous for her role as El in the Netflix series Stranger Things. She was also in the prequel(Godzilla: King of the monsters) of this movie. The movie cast will also include Kyle Chandler as Mark Russel(Madison Russel's father), Eiza Gonzalez, etc. The casting of Vera Farmiga as Dr. Emma Russel(Madison Russel's mother) has not been confirmed as she was seen sacrificing herself in the previous part. But we might see her in Maddison's dreams and thoughts.
What to Expect From the Movie?
Both Godzilla and Kong are old franchises, and from what we have experienced in the past, it is for sure that these monsters will give it they're all. Also, there will be considerable scale destruction due to their behemoth sizes and unmatchable powers. So we will see significant buildings being crushed and ravaged modern machinery being swung and thrown and destroyed like toys and debris of after-destruction all around.
As already mentioned that this movie is the sequel of the two movies- Godzilla: King of the monsters and Kong: Skull Island, so the movie will follow up the events that have happened in the two prequels and for those who haven't watched the prequels they have a lot of catching up to do.
It will be very 'exciting' to see how the two 'monsters' face-off each other. Godzilla has attained his alpha phase and is more destructive and powerful than ever. He stands 400 feet tall, can release fire beams through his mouth, and has a compelling tale which was enough to kill the male Muto in Godzilla 2014.
On the other hand, we have Kong, who is an ape and can get very violent. He stands 104 feet tall and is very fast and destructive. Kong is also the most intelligent of all the monsters in the MonsterVerse, and it is a significant advantage.
Comparing Kong with Godzilla, we would conclude that Godzilla has the upper hand over Kong due to his size, explosive strength, and also the fire that it can release through its mouth. But the Kong we saw in Kong: Skull Island was a small Kong which has only grown to 1/4th of its exact mature size. So by the time these two will clash, Kong will be mature and full-grown, and hence the differences in their sizes will be significantly reduced.
If Godzilla can use his fire in his body, then Kong can use his quickness to escape from it. If Godzilla has more explosive strength, than Kong has more thinking and strategizing capabilities.
So Kong will not be that much of an underdog and also as we have seen that underdogs can also turn the tables their way. So, this collision will not be one-sided, and the result can end up in anybody's favor.
We can also expect more monsters to walk the earth in this movie. And what will be more interesting is seeing with whom these monsters will align. As Godzilla became the King of monsters after defeating the three-headed monster Ghidorah, the rest of the monsters might submit themselves to his power or can fight against the King of monsters to dethrone him.
We can also witness Mothra back in action after. Ghidorah burned Mothra, but she left behind an egg that can bring a Mothra into existence. But it would also be difficult for her to choose a side as both of these monsters have stood on the positive side and have fought the evil a couple of times in the past.
The human side of the movie will be lead by Monarch, who will discover a technology/method to finish all the monsters be it right or wrong once and for all. This would sound very disturbing to all the Godzilla and Kong fans out there.
Also, according to the director Adam Wingard Godzilla Vs. Kong will emphasize the human aspect of the movie. Every character in the movie will be carefully nurtured and portrayed, and sufficient time would be given to each character. This time it won't just be about the monsters but also the humans.
Also, according to the director, this fight will happen, and one monster will emerge as victorious, and the debate of who will win among them will be settled. There won't be any plot twist that will align both of the monsters on the same side of the story, and it is also possible that we will have to say goodbye to these monsters because of the reckless efforts of the Monarch to eliminate these monsters.
Additional information
As already stated, this movie's director is Adam Wingard, and he was not in the previous movies. Every MonsterVerse movie is directed by different directors – Godzilla 2014(Gareth Edwards), Godzilla: King of monsters(Michael Dougherty), and Kong: Skull Island (Jordan Vogt-Roberts). So we can witness some significant differences from the prequels and also this upcoming movie will be full of surprise elements.
It generally happens that the team is also working on two or three movies that would follow the current movie, but in this case, there is nothing like that. According to Legendary, this is the only movie of Monsterverse that they are working on, and the future of other Momsterverse movies also depends upon the performance of this movie in the box office.
There are questions like- Who will be victorious among them? Why will they come to each other? Will anyone among them turn evil? Who will align with the positive side?
These questions can only be answered correctly after watching the movie itself or by getting the superpower to look into the future.
Conclusion
This will be a kind of movie everybody is looking forward to and let us hope that it gives its best and matches our expectations and also surprises us in the best possible ways. It needs to be up to the mark because it is only then it will be able to satisfy its vast audience, fanbase, and critics.