It seems like Period drama excites a very wide bracket of people. From Games of Thrones to Vikings to the Peaky Blinders and many more, people tend to watch it with keen interest as it has the element of the unfamiliarity of that time. Also, the people can witness how was the lifestyle and the people during the period of which they have only watched in documentaries and only heard from people and only read in books and articles. From costumes to language to the setup and functional characterization, everything contributes to the success of these shows. They are highly appreciated by the viewers and find themselves a vast scope of viewership with different types of viewers like teenagers, older adults, critics.
One such show is Taboo. Taboo is a tv drama series aired by BBC and FX Entertainment. It stars Tom Hardy in the lead role. The show's directors are Kristoffer Nylholm and Anders Engstrom. It is created by Steven Knight (the mastermind behind the successful Peaky Blinders), Tom Hardy himself, and also Chips Hardy (Tom Hardy's father). The show is produced by Scott Free London and Hardy Son and Baker. The show is based in 19th century Britain and was first aired on 7th January 2017 in the UK by BBC One and on 10th January 2017 in the USA by FX Entertainment. The show is said to be written by Tom Hardy and Chips Hardy and contains eight episodes of length between 56-58 mins.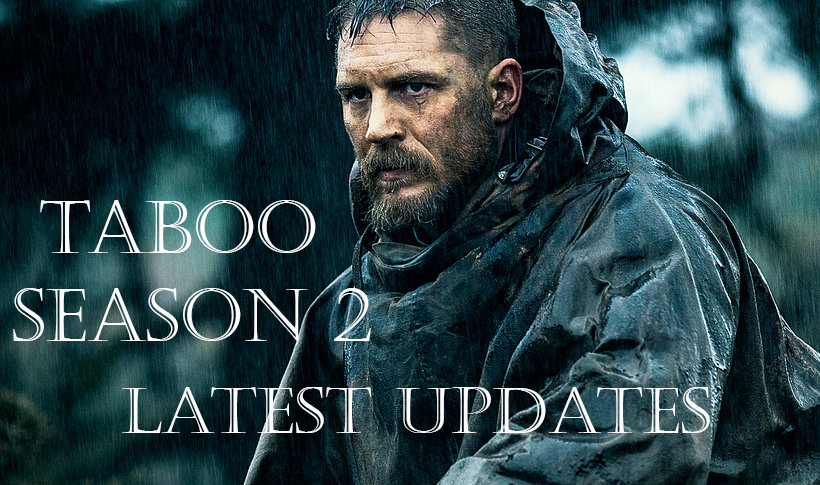 Taboo is about a native Englishman 'James Kaziah Delaney', son of 'Horace Delaney'(father) and 'Anna Delaney'(mother), who has returned to England from Africa after more than a decade (12 years) due to his father's (Horace Delaney) demise and to reinstall his father's pride and his trading busing. He was considered to be dead by people before he came back from Africa. He brought with him 14 crystals of the diamond from Africa. The show's protagonist 'James Kaziah Delaney' is an ex corporal in the East India Company and is violent. He is, moreover, believed to be a sage man with physical capabilities at the same time. He has 'tattoos' all over his body that look a bit strange. He returned to England around 1814 when the battle between the UK and the US was about to end.
The show also emphasized a lot on the social systems prevailing at that time. The corruptions all over in the business and systems, distressed and inhumanly treated laborer's and poor's, the widening of the gap between the rich and the poor with the rich getting richer and the poor getting poorer. The show was 'dramatic', 'violent', 'thrilling', a lot 'political' and 'crime' related. It had some commonplace, very violent scenes in the form of war scenes and fights. It had everything one would expect from a 'Period Drama.'
The show was very involving and was very appreciated by the viewers. They liked the likes of Tom Hardy in James Delaney's character. The viewers always look for kinds of stuff like these, and when being provided, they crave for more. This is the reason why they felt that eight episodes were very less for the show, even though every episode was about an hour-long in length. Season 1 of Taboo aired in Jan 2017, and it has been around three years, and season 2 is not out as yet. Fans have been waiting very eagerly to see Tom Hardy killing it again as 'James Kaziah Delaney' in Taboo season 2.
Taboo Season 2 Release Date: When is Taboo Season 2 Airing?
As soon as Taboo season 1 went on air (in January) and received a good response from the viewers, it was made official that there will be a second season of Taboo and that the show will consist of three seasons in total. This was from January 2017. There is unfortunate news for all the fans who are eagerly waiting for Taboo season 2to be out. The show's co-creator 'Steven Knight' who has gained a lot of fame and name from his works like 'The Peaky Blinders' and 'Serenity'(starring 'Matthew McConaughey' and 'Anne Hathaway') in which he was both the writer and the director, has confirmed that he has nearly completed writing for Taboo season 2 and that the show would be out by the end of 2018. But it seems like it didn't go that way at all.
It has been confirmed that the shooting for Taboo season 2 has not even begun yet because of the current situation of 'pandemic' and 'lockdown,' which has affected almost all sorts of work. Moreover, Eric Schrier, 'FX Entertainment's president has said that the making of the show is being postponed so many times and is taking so long due to the busy schedule of the face of the showtime., Tom Hardy. Tom Hardy is reportedly working on his much-awaited movie 'Venom 2,' which is the sequel of his previously released Venom if this is not all he has also signed many projects which keeps him pretty busy and leaves him with little time to breathe! This is the price one has to pay to have a star in his projects.
Moreover, Tom is also excited to get back to work after the lockdown gets over and complete the shooting as soon as possible. But considering the production time and other formalities, it is estimated that the show will air at the end of 2020 or in mid-2021, or it could take even longer depending on the present pandemic situation. But all this wait would be worth it as the creators with extra time in hand will try their best to deliver the best possible content the viewers can think of.
Taboo Season 2 Cast: Who Will be in Taboo Season 2?
There has not been any official announcement and revelation of the cast for Taboo season 2, but it is believed that cast from the previous season will remain in this season with little or no changes. The second season would star Tom Hardy as 'James Kaziah Delaney.' Moreover, the show, most probably, will also consist of Lorna Bow, who will be played by JessieBuckley. Mark Gatiss will be playing the Prince Regent. Stefen Graham will play Atticus, David Hayman will play Brace, Edward Hogg as Michael Godfrey, Jason Watkins will play Solomon Coop and: Nicholas Woodeson as Robert Thoyt.
We will not be seeing some casts from the past season like Oona Chaplin, who played Zilpha Geary, Jefferson Hall, who played Thorne Geary, Michael Kelly, who brought life to Dr. Dumbarton and Jonathan Pryce who starred as Sir Stuart Strange. This is because the characters played by them died in the first season. Moreover, we can only see them in action if they tend to haunt James Delaney in dreams and thoughts.
As there has not been any official confirmation of the cast for Taboo season 2 so there is no information regarding any new faces that will be added to the story. But no need to worry as the show will consist of the previous character, including the legend of 'James Delaney.' And even if some new faces will be added an element of surprise is a boon for the viewers.
Taboo Season 2 Storyline: What Will Follow?
As confirmed by the show's co-creator Steven Knight in an interview, the second season would picture the journey of 'James Kaziah Delaney' and his allies. From the ending scenes of the last season, we are very well aware that Steven is telling the truth as James, with his surviving allies, set ashore for America. They will be moving toward the west to 'Ponta Delgada,' 'Azores,' and this would probably be the place where they meet the 'Colonnades' of the US intelligence. Great emphasis is being given to the US 'spy network' of Colonnades, and the story would revolve around them.
Also, according to Knight, this season will be mainly into narcotics and would be influenced by opium and stuff. Moreover, the story would move toward America, and we will be able to learn more about James's American roots. James Delaney would be able to discover about his American heritage from a native American tribe that his mother, Anna Delaney, hailed from. The mysterious tattoos all over James Delaney's perfectly toned body will also hold a significant interest of viewers as there might be revelations of secrets behind his inks. We will also know the secret behind his wars against the East India Company and Prince Regent.
Also, Taboo season 2, like the first season, would be violent, dark, and crime-related. It will portray the social and administrative and international issues that prevailed around that time. It will be just like season one but more exciting and dramatic. As we know that the show makers have been writing for season 2 right from when the season 1 went on air and have got a whole lot of time with them just for relaying the story, there are higher chances that the new season will have a greater depth than the previous one and will be worth the wait. Steven Knight has confirmed that season 2 will also be of 8 hours, just like the previous season. This means that the second season, like the first season, will also comprise eight episodes of a length somewhat between 52 minutes to 56 minutes.
Taboo Season 2 Trailer: Is the Trailer Out Yet?
No trailers and teasers of Taboo Season 2 are out yet in the public as shootings have not even started yet. The trailer will be out, most probably, at the end of 2020 or mid-2021, just a month or two before the show airs. Both the trailer and the show might get delayed depending on the time consumed in shootings and productions, which will catch pace if and only the situation of pandemic gets back to normal. There might be fan-made trailers and teasers of Taboo Season 2 out on the internet, but these are just predictions from fans and can be far more different than what will happen in the actual show. So, the only thing fans can do to watch the actual trailer and also the whole Taboo season 2 is 'wait.'
Additional Information
Like the previous season, this season will also be aired by BBC one network in the UK and FX Entertainment network in the US. Like the previous season, the second season will also be available on the popular OTT platform, Hulu. The creators and directors of this new season are believed to be the same as previous seasons.
There is exciting news for the viewers and fans of Taboo and Tom Hardy. Steven Knight, in an interview, has confirmed that this season would be the second part of the three 8 hours that he has prepared. This confirms that there will also be a third season of Taboo for the viewers.
He has also confirmed that he would strictly follow his plans of creating only three seasons of this period drama and that he has no plans of increasing the number of seasons any further as it could harm the integrity of the show and make it boring. This might dishearten many fans. But it is what it is.
Conclusion
Though we are uncertain about when Taboo Season 2 will arrive (so are the creators) but seeing the time and dedication which is being put to this project, there is one thing we know for sure that the second season will raise the bars even higher for the third season. It will, for sure, give chills to the viewers, seeing the time and dedication which is being put to this project. Viewers and fans are very excited to see more of Tom Hardy as James Delaney, and the wait will make the content even more binge-worthy and exciting.