It's been almost three years since the first season of the Netflix adaption of the novel, Mindhunter: Inside The FBI's Serial Crime Unit, was released. The show was released by the same name as the novel, Mindhunter, and became a sleeper hit as soon as it came out. The exciting plot of two FBI agents trying to get into the minds of serial killers, to understand the reasoning behind their crimes, along with the dark and cold style direction of David Fincher is what made this show an instant hit.
Three years and two seasons later, here we are, living in a pandemic stricken world, where everything has come to a stop. So has the shooting of many TV shows and series. So what does this mean for the future of Mindhunter? Will there be a Mindhunter Season 3? Well, to be precise, we don't know. We have talked more about Mindhunter Season 3, later in this article. Keep reading to find out.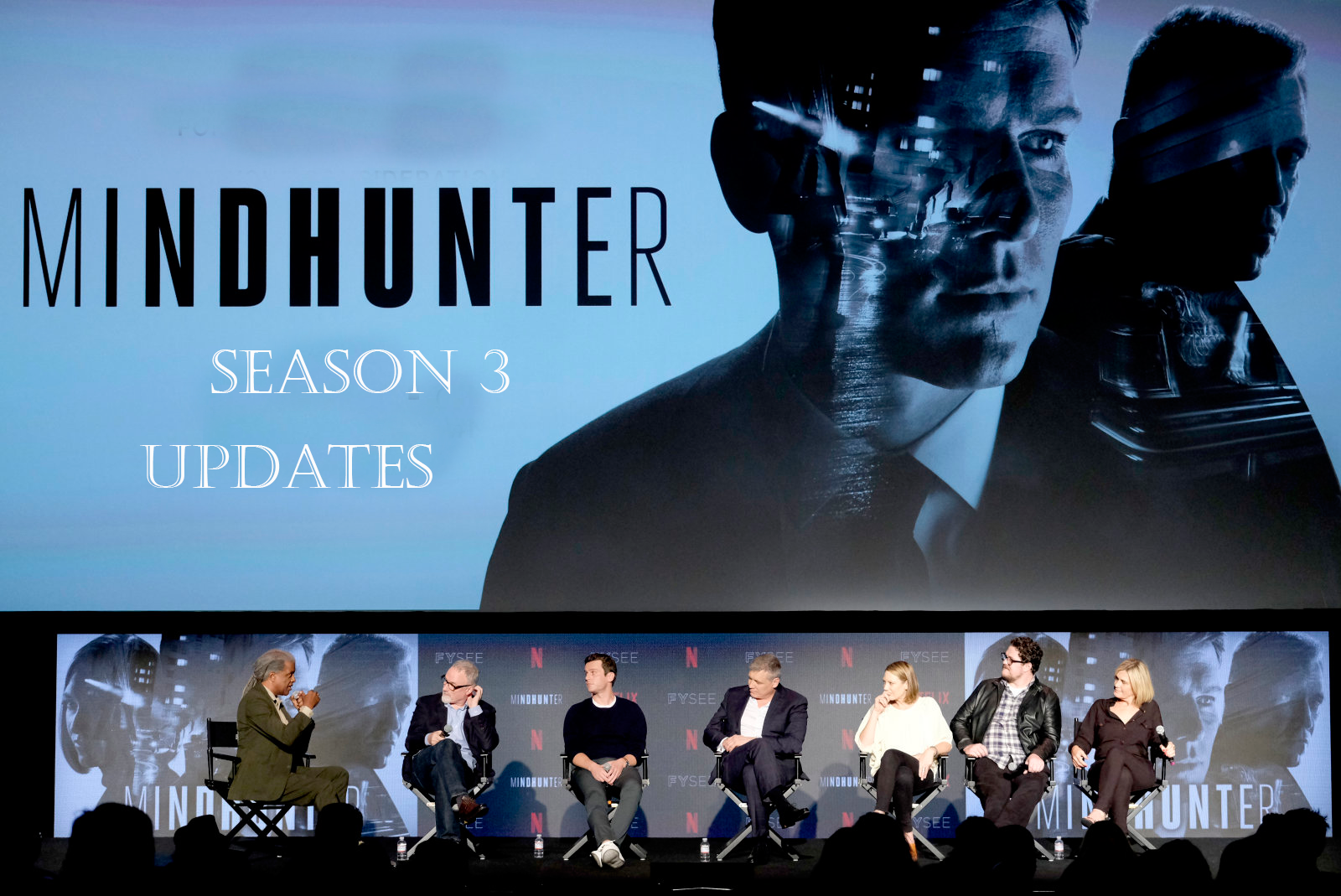 What is Mindhunter About?
The show, set in the 1970s, mainly revolves around two FBI agents, Holden Ford and Bill Tench, who have made it their life goal to understand the motivations behind the twisted crimes of serial killers. They, when faced with the question, "Are serial killers born or made?" decide to go around the country and help the FBI with different serial killer cases, and also in the process, interview the criminals for finding an answer.
Holden Ford is a particularly obsessive person who, to get every detail, tries to befriend the criminal as much as possible. And this method of Ford is not particularly well received by the authorities, including his loyal partner, Tench. Everyone is concerned about the mental health of Ford, for obvious reasons, but Ford shows no intention of stopping.
But that's what makes the plot interesting. Add to this already interesting enough plot a protagonist with a dramatic personal life and some unique character traits, and what you have is a never-failing formula for a hit TV show. And to be fair, the makers of this show have been quite successful in doing that.
But the show is not all about the contemporary and risk-free way of storytelling. It does some things differently, as well. For example, it's not your typical crime drama show where the police use the already well-known tactics to defeat crime, but rather the protagonist is trying to formulate new ways to understand crime. The show is set in the 70s when the current tactics didn't exist, so Ford has no choice but to gain experience from his interviews and to apply it all to solve the next case.
Throughout the show, there is always a new mystery and new things to learn, and you see Ford and Trench develop as police officers in front of you, which draws you even closer to the characters. Also, the characters are more like real-life cops, which suffer from anxiety and panic attacks, taking Valium now and then, rather than your typical cool looking movie cops. This authenticity of the show makes it stand out from a standard crime drama series and the one you should watch if you are into this genre.
As for the future of this show, it is still a mystery. However, it is very much unlikely that the show will be discontinued, given its success. Netflix would not like to give up on the potential profits they can make with the future seasons of the show. But it might take a while before that happens, so it's better you recap all that has happened so far in the show, so you don't end up forgetting even the names of the characters by the time Mindhunter Season 3 comes out.
Mindhunter Season 1 & 2 Recap
Season 1
Season 1 of the Mindhunter series is narrated in an entirely different way from season 2. In season one, there is always a new case with every episode. The first couple of episodes are used to set the course of the show, with the first episode introducing us to Holden Ford ( played by Jonathan Groff), who is a hostage negotiation tactics teacher at Quantico.
The FBI calls him for negotiating with Cody Miller, a man who, having taken hostages under him, is demanding to talk to his wife. Ford tries to calm him down by talking but is unable to do so, and Cody ends up shooting himself in the head. Although the police are happy that there were no hostage casualties, Ford, on the other hand, wanted to see even Cody come out alive from the situation. This tells us about the true nature of the protagonist, a kind-hearted and empathetic man.
During the time in which the show is set, serial-killers were a new brand of killers to have emerged, and no one could understand why someone would kill so many people without any reason. Ford gets interested in this development in criminology.
Also, in the first episode, we are introduced to Bill Tench (played by Holt McCallaney), Ford's partner to be. He is the part of the Behavioral Science division, which travels around the country and gives lectures to local police. Bill acknowledges Ford's fascination with these new types of killers and invites him to join the B.S. unit. This is how their journey across the country to understand the minds of serial-killers begin.
As the story progresses, a lot happens with Holden as he interviews more and more criminals. He begins to lose his mind, or at least that's what his colleagues think. Things get bad when Holden is interviewing one of his subjects named Richard Speck ( played by Jack Erdie), so much so that Holden says some unacceptable things which makes Speck file a complaint against Holden (You need to be a little out of your mind for being a cop and getting a criminal to file a complaint against you).
Holden tries to get out of the situation by convincing one of the agents to alter the tapes of his interview with Speck to make him look innocent. Still, the agent boldly mails the original tape to the authorities. Although, we are never told what happened after as the consequence of the report.
Holden also goes through a lot in his personal life, too, including a break up with his love interest, Debbie Mitford (played by Hannah Gross). The effects of all the stress from his personal life and the interviews with his subjects, start to show up. As a result, the season ends with Holden collapsing while hugging a serial killer, Ed Kemper, due to a panic attack.
As for his colleague and partner in crime, Bill Tench, half of his time is spent trying to keep Holden from going mad. And the other half is spent regretting is his decision of going on a trip across the country with a half-insane man rather than spending time with his wife and son and just kidding. However, he does sometimes thinks of going back to them. His son, who is six years old, also has some issues with his personality, for which Bill and his wife were thinking of sending him to therapy.
Season 2
The season 2 of Mindhunter changes its plot style from a new case every week to a single case plotline that spans the entire season. This allows the writers to focus on more detail on the case and characters. Season 2 focuses on the Atlanta Child Murders case, inspired by the real-life mass murdering of children in Atlanta in the 1970s.
Although a time jump was rumored at the end of season 1, season 2 picks off immediately where season 1 left, the panic attack. As for Holden, he is currently in hospital, tied to his bed. On the other hand, Chief Shepherd ( Cotter Smith), is forced to retire from the force after he tries to cover for Holden's behavior in the last season.
He is replaced by Chief Ted Gunn (Michael Cerveris). Gunn reopens the investigation on BSU and finds Holden guilty but accepts to leave him this time as long as his colleagues vouch to keep an eye on him all the time.
Later, Tench is headed to Kansas on his own to investigate the BTK Killer case and finds few leads. Holden, on the other hand, goes to Atlanta for another one of his interviews, where he is confronted by three mothers whose children went missing. They are trying to seek help from Holden as the police have denied them any help because they are "black." Holden, being a kind man, immediately agrees to help.
Also, to our surprise, there is another development in the show, when the dead body of a boy is found in the basement of a house that Tench's wife was selling. On investigating the case, it is found that Tench's adopted son also had a hand in the crime. Oops.
As thing progress, Ford and the team try to uncover the Atlanta mystery. Although, the Atlanta Police Department warns them not to work on the case as the FBI has not officially appointed them. Although, the supporting Chief, Mr. Ted Gunn, after hearing about it, appoints them officially to the case. Still, they don't manage to get many leads in the case.
On the other hand, Tench's family is falling apart, as Nancy wants Tench to come home more often to look after Brian, who is now undergoing therapy. Brian was not charged with murder being a minor.
The BSU get successful with the Atlanta mystery when they can catch Wayne Williams, who is charged with the murder of kids in Atlanta. Although, upon questioning him, he can provide answers to every question thrown at him, ultimately forcing the FBI to release him. Although Ford, who is still convinced that Williams is the one who killed the children, asks the force to track his movements. Upon following him, they find nothing.
Also, unfortunately, someone leaks the name of Williams to the press, which is then posed as the murderer without any substantial evidence. Williams, not happy with it, demands justice. The FBI, who is now under pressure, arrests Williams for two murders, which are not related to Atlanta children murders.
The series ends with Tench's family falling apart as his wife leaves him and Ford and everyone else going back to their homes disappointed.
Mindhunter Season 3 Updates
The hugely successful Netflix original has no reason to get canceled. Still, given the current lack of interest that is being shown by the show's creators, the possibility of it coming out shortly looks bleak. What puts the nail in the coffin about season 3 not coming out anytime soon is the fact that the show's cast has been released from their contract.
The biggest reason behind that step was the busy schedule of the show's director, David Finch. Finch has a couple of big projects to work on this year, including, the Netflix movie, "Mank" and season 2 of the highly popular Netflix series, "Love, Death, and Robots." Fincher is not going to get time to work on the Mindhunter Season 3 this year.
Although Finch has completed shooting his movie well before time, the pandemic will take its toll. Getting the cast back together in the future, given they may also get involved in new projects now that they are free, is also going to be a challenge.
The show's cinematographer, Erik Messerschmidt, when asked about the show's future in an interview, said he is also unclear about that. Erik is pretty close to Fincher, given he is also working Fincher on the movie Mank and the show "Love, Death, and Robots," so if there were any plans about season 3, Erik would have known. Therefore, it can be safely said that the fans will have to wait at least a year before they are greeted with another season of the crime-drama series.