The ending of The Handmaid's Tale Season 3 has left its viewers with tons of questions after the show's protagonist, June Osborne (played by Elisabeth Moss), is shot by a Gilead security guard while on her way to rescue children from the dystopian city. Although June and her handmaids can resist the guard with the help of stones and rocks and a gun that June possessed, thus giving a window for the children to get on the plane, June herself is left behind in the process.
The season ends with an aerial shot of some handmaids taking the injured June to shelter, establishing the fact that June is still very well in Gilead. What this can mean for the advancing the plotline of season 4 is still something that remains to be seen. But there are plenty of theories and speculations emerging from fans and experts about the plot of the upcoming season. Also, Joseph Fiennes, who plays one of the lead characters in the series (Commander Waterford), gave a lot of new information about the future of the character in the series, and the direction of the plotline. Before getting into that, for those who don't remember the series of events that have happened so far, here is a summary.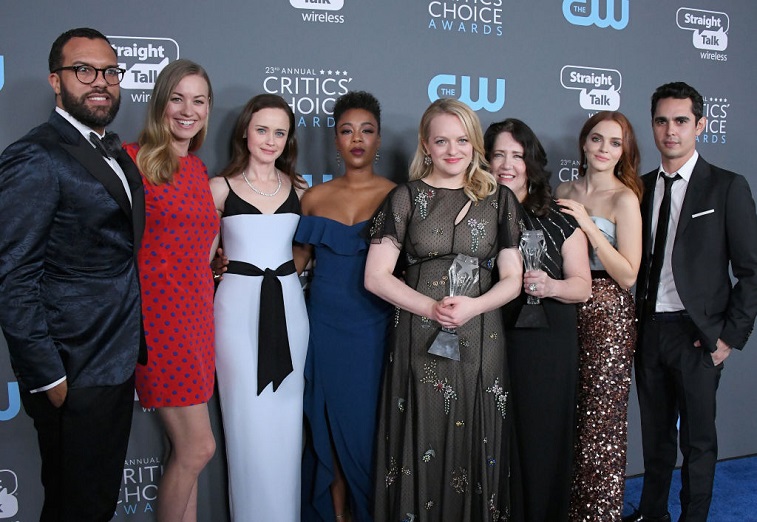 The Handmaid's Tale Season 4 Release Date
The season of the critically acclaimed drama was aired in April 2017 and became an instant hit. Naturally, what followed was another season. Season 2 came out exactly a year later in April 2018. The dystopian drama saw a hike in the number of viewers, making it even more successful, and so there was another season released almost a year late. The Handmaid's Tale Season 3 was released in June 2019.
While Season 3 was in progress, the announcement of Season 4 was also made, and it was set to release in late 2020. But the Covid-19 pandemic affected the series just like everything else around the world. The shooting for Season 4 was put to a halt just after Moss started filming her debut episode as the director for the Hulu Original series. There has been no announcement yet as to when will filming will begin again and when the new season will be aired. Speculations are that we might get to see the new season around early or mid-2020. But no one is still yet sure.
One thing is for sure though, we will get the new season, as the series is doing incredibly well and making decent money for everyone involved. The show creator, Bruce Miller, was also once heard saying that the show will have ten seasons, and it can very well do so. But as of now, we will have to wait for any further official announcements by the show creators about the release date.
The Handmaid's Tale Cast
The Handmaid's Tale has been pretty stable in terms of the cast so far. We have not seen any character leave till Season 3 of the show. And the same can be said for Season 4 as well. There is no such news of any actor abandoning the show. We can safely say that the cast for Season 4 is going strong as Season 3. Although we can see some new characters, that is something we will only know when the show is released.
The show's lead character, June Osborne, is played by Elizabeth Moss. She has brought all her excellence as an actor out while playing the character, and now she's set to use that excellence for other purposes as well. She's debuting as the director of the show as well, starting from the third episode of the 4th season. Another lead character, who's run in the show seemed to end after his arrest, Commander Fred Waterford can be seen returning as well. Played by Joseph Fiennes, he was arrested by the Canadian Police, along with his wife Serena Joy, played by Yvonne Strahovski. The couple might be seen walking free again in Season 4.
Fred can also be seen confronting June's husband in Canada, Luke Bankole, who is played by O-T Fagbele. Some other primary cast of the show includes Ann Dowd as Aunt Lydia, Alexis Bledel as Ofglen, Max Minghella as Nick Blaine and Samira Wiley as Moira.
The Handmaid's Tale Summary To Season 3
The TV adaption of the classic novel by the same name, written by the celebrated Canadian writer Margaret Atwood is available on Hulu to stream. The show so far has three seasons, and the announcement for season 4 was made while season 3 was still going on. This perfectly depicts the success that the show has been. This can be credited to the dark, dramatic dystopian theme of the plot that keeps its viewers engaged with the series.
Set in the city of Gilead, which was formed after the Government of the United States was overthrown by a political group called "Sons of Jacobs," the story revolves around the struggles of June Osborne as a handmaid for one of Gilead's officer, Commander Fred Waterford. The Waterfords belong to the elite class of Gilead. In the city of Gilead, the fertility rate of women was reduced dramatically due to environmental pollution and radiation. Therefore, those in power started to capture fertile women and keep them as handmaids. Handmaids were made to involve in reproductive activities without their consent, and the offsprings were given to the elite infertile women. The handmaids were made to suffer and were sexually assaulted.
June Osborne, who was one such handmaid, sick of the tortures she was made to go through (including, separating her from her child), started a rebellion with the help of other handmaids after she could no more take the suffering of the regime. June is married and has a daughter named Hannah, but she was separated from her and also her husband, Luke. The story advances until at the end of season 3 when June is shot by a Gilead security guard, while she was on her way to escape to Canada with dozens of suffering children. June manages to make the children escape, but she is left behind. Although she alive and well, she is still in Gilead, though.
Speculations and Leaks for Season 4
The fact that June Osborne is still in Gilead has opened up immense possibilities for season 4. Also, during the final episode of season 3 of the series, Commander Waterford and his wife Serena Joy is seen to be captured by the Canadian Police. The capture was made possible by Serena Joy herself as she underwent a change of heart and realized all the wrongs her husband has been doing and informed the Police about the whereabouts of her husband. But her husband, after being captured, also revealed the truths about his wife to the Police, thus leading to her capture as well.
In an online interview conducted by Gold Derby with the show's cast, Joseph Fiennes, the actor who plays Commander Waterford might have given out some spoilers about the upcoming season of the show.
The show's star also talked about the betrayal of Sarah Joy, stating, "He is so shaken by that betrayal. They make love that evening [before being arrested], and that's the first moment of accurate contact in many years. And he feels he has repaired the damage and atoned for not stepping in and stopping her finger being chopped off.
"And then for her to betray him, and it seems to be a trap, I think it was so hurtful."
Joseph Fiennes also might have hinted that Fred Waterford will be helping the Canadian Police with the information on the dystopian regime to lessen his sentence. Although he said he will still have to serve a sentence in jail and will be formally arrested for the same.
He spoke, "He is also – He's going to be arrested. He's in a holding cell at the moment, but I think he'll have a lot to answer for in terms of war crimes.
"So I think there's a desperate need to become an informer, if you like, and to become, for Canada, the conduit into the machinations of Gilead.
"And if he can present himself to the authorities as a way of prizing open secrets of Gilead, that might lessen his sentence. So I think he's playing a game, but it's going to be fascinating in Season 4 about how his position will be one way where he can persuade the authorities to lessen his sentence."
What remains to be seen is whether or not Fred betrays his regime, and if he does, how much can he benefit from it.
Also, since Fred is now in Canada, we can see two significant characters, Fred Waterford and Luke (June's husband) sharing screen, which is something fans will want more of. They were once seen sharing a screen on episode 12 of The Handmaid's Tale Season 3, but it was a very brief interaction.
Joseph also talked about this matter, stating, "And actually, we pick up Season 4 with another one of those scenes which we just shot with Lizzie [Elizabeth Moss] and that was exciting.
"So it's how that relationship further develops as Luke needs more information from Fred and as Fred holds a lot of cards in terms of Gilead and what might happen to June."
Gold Derby also interviewed O-T Fagbenle, the actor who plays the role of Luke in the series. Luke is currently in Canada and is fighting for the escape of her wife, and fans might see the long-awaited reunion of Luke and June in Season 4 of the dystopian drama.
In the interview with Gold Derby, O-T discussed the brief moment that he and Joseph shared on screen. After being arrested by the Canadian Police, Fred confronts Luke about how the new regime has changed June, which enrages Luke, making him land a blow on Fred's face. The actor was not at all satisfied with how he portrayed that punch. According to O-T, he punched Fred better than the actual Luke would. He thinks of Luke as more of a modern man who does not know how to fight, and therefore the punch was better than the actual Luke would hit.
He says, "It is a moment I have some regret over. I was keen for that punch to look pathetic. Like, for it to hurt, but for it to be a sh***y punch."
He adds, "It's another part of my keys to Luke, which is that Luke isn't much of a physical guy. He's part of this 'modern man' who wears a cardigan and reads newspapers, you know, he's a metro guy!"
Another significant speculation that might also be true is for The Waterfords to return in the life of June.
The Waterfords are influential people and are among the elites in the city of Gilead. Therefore, it would not be a surprise if they are seen walking free in the upcoming season of the series. If they do, it is almost inevitable for Fred to collide again with June, who is still inside the chaotic city of Gilead. June, who was once a soft woman, has become stubborn and rebellious, owing to her suffering in Gilead. She has already landed a significant blow against the city by making dozens of children escape to Canada. She is not going to sit around while she can still hurt some more. And Fred is most definitely going to be a problem for her if he somehow walks free, that is. But that is still something that remains to be seen.
Fred star, Joseph Fiennes, on his interview with Gold Derby, talks about working with Moss, who will also make her directorial debut starting from the 3rd episode of Season 4. His comments might have hinted at a Fred and June reunion.
Fiennes says, "It is and doubly frustrating because Lizzie, who I think has got so much on her plate, has managed to make room to direct in Season 4, and what a fantastic director she is.
"So the first episode I kicked off with, although it was out of sequence, was working with Lizzie, she's brought all her genius as an actor into her role as a director."
Although it is not clear whether Moss and Fiennes were both in character while filming that sequence or was
Moss is directing the sequence while Fiennes was acting. Nevertheless, it has given a spark to the speculation that the duo might share the screen in Season 4. We will have to wait for season 4 before we can know the answer to that. But when exactly is Season 4 coming out?