Hello people, today we will be talking about another anime show that has raised to stardom and is anticipated with a new season. We will be looking into the answers of the most important and most asked questions regarding Overlord season 4, which will be a sequel to the anime TV show Overlord.
But before we do so, let us have a general overview of the anime show.
Overlord is a dark fantasy, isekai anime show, which is directed by Naoyuki Ito. Like any other anime show, it is based on a light novel that goes by the same name. The light novel series consists of a total of 13 volumes and is written by Kugane Maruyama and illustrated by Hugin Miyama. The show is based in the 22nd century(2126 to be precise).
The show revolves around a future advanced game that is claimed as the best among its counterparts named YGGDRASIL, which allows its players to select their characters and be in the world of game playing( that is one badass technology we anticipate the most to occur in in future).
But 12 tears after the game is launched, it is suddenly called back or shut down, and due to this, some players get trapped in the gaming world. One among them is the protagonist of the story named Ainz Ooal Gown, who has taken the character of Momonga, who looks like a badass villain and is the Overlord of Nazarick(a kingdom in the gaming world).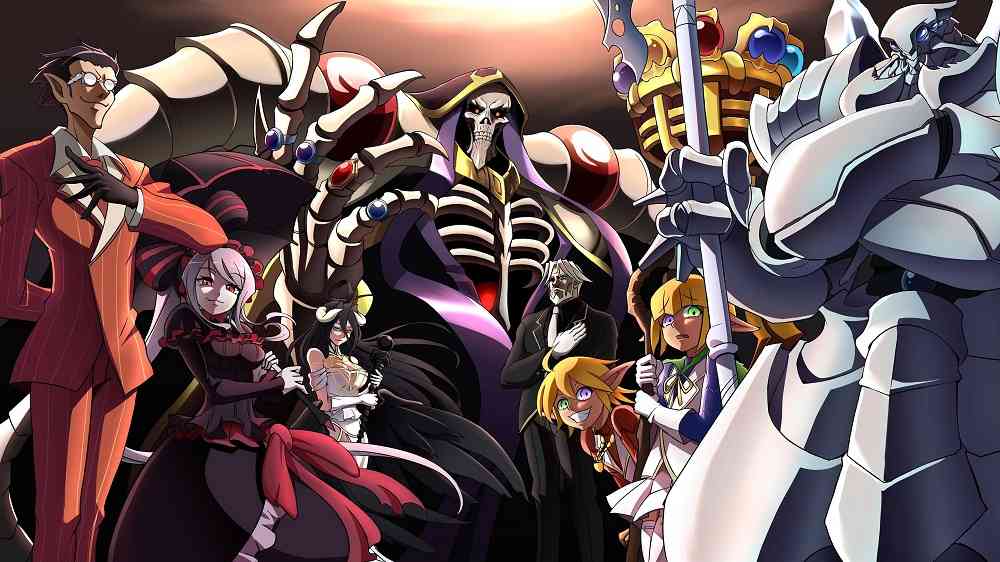 The show is full of fighting, action, emotional and dramatic scenes that have drawn the viewer's attention and leave him bewildered of what the show has to offer. The show was highly praised for its wide-character support. It has a considerable character base, which consists of villagers, politicians, elites, herp bosses, and many more that add to the depth of the story.
Like a typical isekai it allows the protagonist and the viewers to escape the limited real-world full of things which they are habituated to and land them in a whole new strange world where the limitations are different, the beliefs are different, and sometimes the creatures are different. This makes this genre very fascinating.
The first season of the Overlord was released on the 7th of July 2015, and it was not looking back from then. It has a total of 3 seasons to date, and all are equally awesome. All three seasons have an equal number of episodes,i.e., 13.
The show is liked by the critics as well as the fans and has been rated nicely. It has been rated 7.8/10 in IMDb(which is a decent score), 4.6/5 stars on Crunchyroll, and a whopping 100% on Rotten Tomatoes. This shows how popular the show has become, and the fans are impatient and excited for the 4th season to release.
So considering how famous the anime show has become worldwide and the excitement of the fans for the next season of the show, we will try to clear all your doubts regarding the 4th season of Overlord season 4.
The questions regarding overlord season 4 will be discussed in the following order-
Will there be a 4th season of Overlord?
Who will be in the development team?
When will Overlord season 4 release?
Is the trailer for Overlord season 4 out yet?
What will be the cast of Overlord season 4?
What will happen in the 4th season of Overlord?
Will there be a fifth season of Overlord?
And some additional information?
So let us dig in. Shall we?
Will There Be a 4th Season of Overlord?
Many fans are in doubt whether the 4th season will release or not, and this is about time that this excitement of theirs is put to an end for good. Fans should be thrilled, and there will be a 4th season of the Overlord. However, no official announcement has been made by the makers and Madman, which is responsible for animating Overlord right from the first season.
But we are sure that there will be overlord season 4 because it was previously announced that the novel upon which the anime is based would have 17 seasons and 14 seasons of the novel are out the anime has only been able to cover only nine volumes of the novel in its three-season(3 volumes per season). So there is a lot of material and plans for the 4th season to come.
Now that we are aware that there will be the 4th season of Overlord let us see when we will be able to see the new installment of the show.
Development Team
The group of people and institutions who will be responsible for the making of Overlord season 4 will be similar to the previous seasons'. This will include –
Director- The director for this new season of Overlord will be Naoyoki Ito.
Writer- The writer for Overlord season 4 will be Kugane Maruyama.
Studio- This will be done by Madhouse and Studio Puyukai.
Licensed by- Overlord season 4 will be licensed by Madman Entertainment in Australia and Funimation in the USA and the UK.
Network- This new season will be networked by and will be available on AT-X, Tokyo MX, Sun TV, KBS, TV Aichi, BS11, and MBS.
Release Date: When Will Overlord Season 4 Release?
It is difficult to ascertain the release date for Overlord season 4 as no announcements regarding the same have been made as yet. The third season of the show was released on the 10th of July, 2018, and it has been nearly two years without any further season being dropped. Initially, the sequels to Overlord were released with a gap of 18 months, and if the same were followed, we would have had a 4th season by now, but the fact is that we don't.
The fourth season was expected to release at the beginning or in mid-2020. But as we all know, how badly has the current situation of pandemic and lockdown has affected the operations of entertainment industries, and many of our most awaited projects have been postponed because of this, and the anime industry is no different. So the show has been postponed for an indefinite period because of the reason mentioned above.
Moreover, we can expect season 4 of Overlord to drop by late 2020 or early/mid-2021 (depend totally on the situations). The release of Overlord season 4 might be further extended due to the pandemic and unfinished operations, and the only thing we can do to find this out is waiting.
Trailer: is the Trailer for Overlord Season 4 Out Yet?
The trailer of the show might help us learn more about the upcoming season of Overlord. But as mentioned earlier, the production of the show is still unfinished, and there has also not been any official announcement made regarding the release date of the 4th installment of the show nor its trailer has been released. Usually, the trailer is released just a month before the release of the show, and we could expect the same this time also.
So the trailer for Overlord season 4 will release during the end of 2020 or the beginning or mid-2021 ( depending on the situation). Let's hope that the trailer for overlord season 4 drops by as soon as possible because only then will we be able to know when the show is coming out.
Cast: Who Will Be in Overlord Season 4, and Who Will Voice Them?
The cast for Overlord season 4 will be more or less unchanged from the previous season. The characters and their voice artists for season 4 of Overlord will be-
Momonga- Momonga, aka Ainz Ooal Gown, will again be featured as one badass protagonist for this season of Overlord. His character will be voiced by Satoshi Hino in Japanese and Chriss Guerrero in English.
Narberal Gamma– Masayouki Katou will voice Narberal Gamma's character in Japanese and Anatasia Munoz in English.
Demi Urge– Sumire Ueska will voice demi's character in Japanese and Jeff Johnson in English.
Albedo- Albedo's character will also be returning for Overlord season 4 and will be voiced by Yumi Hara in Japanese and Elizabeth Maxwell in English.
Shalltear Bloodfallen– Nanami Namakura will voice this character in Japanese and Felecia Angelle in English.
We will also be seeing some new faces in Overlord season 4. Still, because no official announcement has been made about the show, the official cast for season 4 of Overlord is a secret, and we will have to wait for the official confirmation from the franchise to be cent percent sure of who will be featured in the upcoming season.
Plot: What Will Happen in Overlord Season 4?
Overlord is based on the Light novel of the same name, and till now, it has been able to cover nine volumes of the novel in its three seasons. This season will be no different,i.e., Overlord season 4 will also be based on the light novel and will follow its storyline.
This season will also feature the Overlord of Nazarick, and by this season, our protagonist might be on the verge of becoming an antagonist. More or less, this season will also rely on its broad character base that adds a lot of depth to the story and also provides the show makers and viewers with more content.
This season will feature a lot of fighting and action scenes, which is undoubtedly going to win many hearts. Overlord will continue to lead his kingdom and will also try his best not to make his subordinates aware that he is just another simple man who is not that smart as they think him to be. It will be interesting to see what will happen if he fails in doing so, and his subordinates get to know that their leader is not what they think him to be and has been pulling a bluff for the whole time.
Overlord has been doing a very excellent job since it was aired for the first time and has achieved a lot with time, and it will be essential to see whether this season of Overlord will be able to keep up with that reputation or not. We hope that this season will be worth the wait and will contain the best elements of all the previous seasons and will be even more than we are expecting it to be, and to see if it comes true, we can just sit and wait patiently for Overlord season 4 to drop.
Will There Be a Season 5 of Overlord?
People think it is quite greedy of them to ask for a season 5 when season 4 itself isn't out yet, and also, no information regarding the same has been made public. But we as fans very well know what goes into the mind of other fans and that they need to know whether this will be the last time they will see their favorite anime aired. So we would like to kill the anxiety of the fans. There will be a season 5 of Overlord.
How do we know? The novel series upon which the anime is based on is planned to have 17 volumes or more. Till now, only nine volumes have been covered, and seeing the record season 4 of the show can't be based on all the remaining volumes. So chances are we are going to see a 5th season of the show and even the 6th season also.
Additional Information
Overlord season 4, like the previous three seasons, will also consist of 13 episodes in total, and each episode of the upcoming season will have a runtime of 23 minutes.
Conclusion
Overlord has managed to break and set many records and benchmarks every season. It will be interesting to see whether season 4 will manage to surpass the expectations of the fans. We will only be able to know it after watching the 4th season of Overlord by ourselves. And for that, we will have to wait a while.